Action for Children said it had analysed 1.6 million children's results across England from 2019 to 2021.
Young people referred to social care at any point in their childhood were twice as likely to fail English or maths GCSE than their peers, a charity said, in what it described as a "worrying attainment gap" that must be urgently addressed.
Action for Children said youngsters in need of social care can be "shockingly overlooked when it comes to work done to help improve academic results" and warned of the limitations facing young people who do not pass these core subjects.
The charity said it had analysed 1.6 million children's results across England from 2019 to 2021 and found that, on average, more than half (53%) of teenagers who had been referred to social care did not achieve at least a grade 4 in either maths or English.
Grade 4 is considered a "standard pass" and is the level students must achieve without needing to resit those subjects.
Their findings concluded that, in comparison, less than a quarter (24%) of students without referrals to social care had not passed one of these two subjects.
Action for Children said it is the first time GCSE results for children with a referral to social care have been analysed. This meant data included children who had been assessed as possibly needing support but might not end up receiving it due to not meeting the threshold.
Alongside data consultants FFT Education DataLab, the charity looked at figures from the Children in Need Census (CINC), a national dataset of children's social care activity in England, which it cross-matched to GCSE results using unique pupil numbers which are given to all those in state education in England.
The charity said its analysis showed that even when exams were cancelled in 2020 and 2021 due to the pandemic, and grades were based on teacher assessment, the attainment gap remained the same.
It suggested that, if children referred to social care achieved at the same rate as their classmates who were not referred, an extra 35,500 children would have received pass grades at GCSE English and maths each year.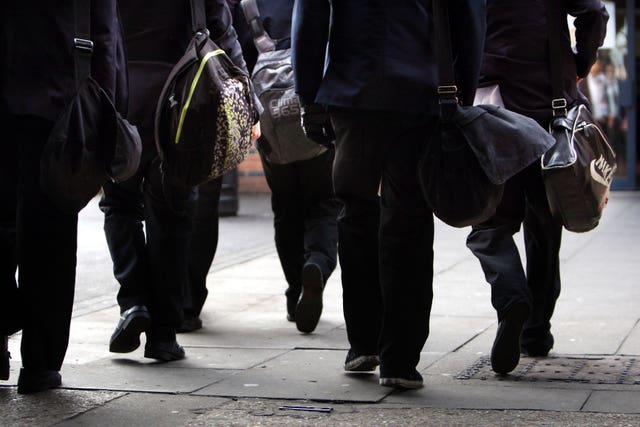 The charity is calling on the Government to commit to investing to roll out family help services across all local authorities in England and to pilot family support workers based in schools to identify those who show early signs of needing support but do not meet the statutory threshold for intervention.
It also repeated its call to abolish the benefit cap and raise the child element of Universal Credit by £15 a week to "address the root causes of family stress and educational disadvantage".
Joe Lane, the charity's head of policy and research, said: "Our analysis shows that poor English and maths GCSE results fall hugely unequally on those who experience challenges outside the school gates. It highlights a worrying attainment gap that needs urgently addressing.
"Some of the children could have been referred to social care years before they took GCSEs, yet that disruption in their childhood has had a lasting impact on their education.
"We fear these young people's life options are more likely to be limited by their poor academic results, as these grades are crucially required by further education and often by employers.
"Yet children referred to social care are shockingly overlooked when it comes to work done to help improve academic results. A social care referral can indicate a child faces challenges in their home and family life, even if they don't meet the threshold for support."
The school leaders' union NAHT described the charity's findings as "an important piece of research that policymakers need to take notice of".
Its general secretary Paul Whiteman said the union has heard "from school leaders that in many places the thresholds for intervention are higher than they have ever been, making it harder for young people and their families to access the support they need" and said schools are facing a challenge in "attempting to support children who really need specialist help from other professionals".
A Government spokesperson said: "We recently published our plan for children's social care, backed by £200 million, which will prioritise early help and intervention for families to help them to stay together where possible and overcome adversity.
"At the heart of the Government's agenda is an ambition to improve outcomes for all children and young people. We are investing £16.6 million per year for the next two years for virtual school heads to provide dedicated educational support to children with a social worker.
"We have also raised benefits, including universal credit by 10.1%, increased the national living wage and are helping millions with a £3.5 billion package to break down barriers to work, including the largest ever expansion of free childcare."