The Campaign for Pubs said the case of the Crooked House 'must be the catalyst for change'.
Campaigners have called for legal changes to protect pubs after the destruction and demolition of the Crooked House, which they called a "national scandal".
The Campaign for Pubs said the "appalling" case of the 18th-century site was evidence of "predatory purchasing and asset-stripping of historic pubs" which should be banned.
The Crooked House, in Himley, West Midlands, burned down on Saturday and was totally demolished without permission on Monday, with police later confirming the cause to have been arson.
The site, known as Britain's wonkiest pub, was sold by pub company Marston's to a private buyer two weeks prior to the fire after being on the open market since January this year.
The Campaign for Pubs has now written to Prime Minister Rishi Sunak urging a change to planning law which would prevent pubs aged 50 years or older from being sold for alternative use, converted or demolished until they had been marketed as a pub for at least a year.
Greg Mulholland, campaign director of the Campaign for Pubs, said: "What has happened to the historic and unique Crooked House pub is a national scandal, as well as a loss to the local community and its history and heritage.
"As well as a full investigation and appropriate action, this sad and unnecessary destruction of a world-famous pub must be the catalyst for change, to stop cynical and unscrupulous owners buying up pubs to convert and develop them and to stop the endemic asset-stripping of our historic pubs.
"We need a simple change to planning law so that no historic pub can be sold for alternative use, converted or demolished until it has been properly marketed for at least a year at the independently valued price as a pub.
"This would stop the cynical destruction of pubs and allow licensees, local breweries, entrepreneurs and communities to buy our historic pubs and make a success of them."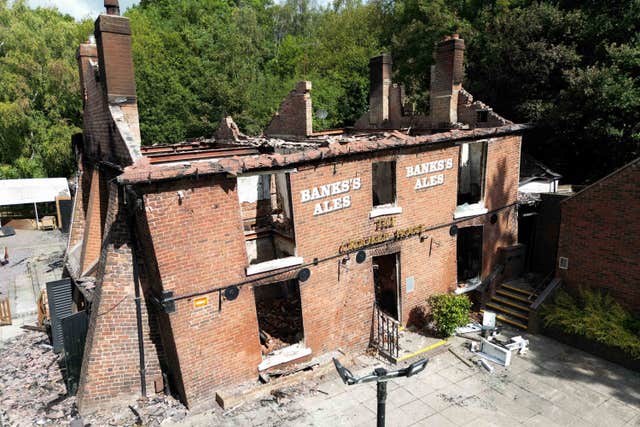 Planning laws were changed in 2017 which meant pubs in England could not be converted or demolished without permission.
But Nik Antona, chair of the Campaign for Real Ale (CAMRA), said around 700 pubs around the country were currently closed and according to its figures, around 30 had been demolished or had its use changed this year without planning permission.
South Staffordshire Council said on Tuesday that it had given permission to the Crooked House's owners to demolish the first floor of the building on safety grounds but had not agreed to, nor deemed necessary, the site's total demolition.
In a four-page letter to Mr Sunak, the Campaign for Pubs said that the government was overseeing a "laissez-faire attitude" to protecting historic pubs, which saw pubs marketed at "hugely inflated freehold values" which priced out potential tenants in favour of property developers.
It said: "A historic pub should only ever be converted if there is no one who wants to buy it as a pub, at the independently marketed value as a pub.
"This is precisely what our 'Give Pubs Protection' policy calls for.
"When anyone – individual or company – buys a historic pub they buy the building as a pub and can, therefore, expect to realise the value as a pub when they sell it.
"They cannot and should not seek to profit from selling the pub for development and this must be stopped where there is a buyer as a pub."
It added: "In the light of the case of the Crooked House, but also the many hundreds of cases up and down the country where communities are losing viable pubs, we urge you to now implement this and make this simple change to planning law, to stop the cynical predatory purchasing and asset-stripping of our nation's pubs."
Visiting the remains of the Crooked House on Thursday, Mr Antona called for landowners to be prosecuted for flouting planning rules.
He said: "Until local authorities, who are strapped for cash at the moment as we know, take the bull by the horn and start enforcing these regulations we're not going to be happy that pubs are safe and protected under the current legislation."