The men say disqualifying people believed to be trafficking victims from getting protection and support because they have convictions is unfair.
Home Secretary Suella Braverman has lost the opening round of a High Court fight with two men believed to be victims of human trafficking.
The men, both from eastern Europe, were disqualified from being given protection and support after a Home Office official learned that they had criminal records and had been given jail sentences, a judge heard.
They argued that disqualifying people, whom Home Office officials have reasonable grounds to believe are human trafficking victims, from getting protection and support because they have criminal convictions is unfair.
Mr Justice Swift on Wednesday gave the men the go-ahead to mount a legal challenge to their disqualification decisions after considering arguments at a preliminary High Court hearing, in Court Three at the Royal Courts of Justice complex in London.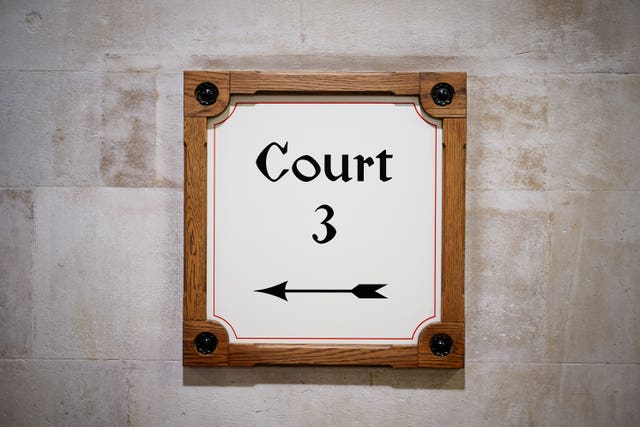 The judge also barred the Home Office from making further disqualification decisions, without taking account of the outcome of initial assessments, pending the outcome of a trial.
He ruled that the two men – one has a burglary conviction and one a robbery conviction – could not be named in media reports of the case.
Ms Braverman is fighting the men's claim and argued that they had "little prospect" of succeeding at a trial.
"There is a strong public interest in permitting the defendant to continue to apply her policy unless and until it is determined to be unlawful, particularly where (as here) the defendant is acting in the public interest," Cathryn McGahey KC, who led Ms Braverman's legal team, told Mr Justice Swift, in a written case outline.
"Granting the relief sought would be wholly disproportionate. The balance of convenience, paying particular regard to the public interest, does not favour the grant of the blanket relief sought (or any interim relief)."
Lawyers representing the two men, who are from Romania and Poland, say protective measures, which include provision of safe accommodation and access to support workers, are needed to prevent victims being found by gangs and re-trafficked.
They say hundreds could be affected by the case – and called on Ms Braverman to review policy.
"Today's decision will temporarily prevent victims of modern slavery from being driven back into the hands of the organised criminal gangs who exploited them," solicitor Maria Thomas, who is based at Duncan Lewis Solicitors, said after Wednesday's hearing.
"This includes British youngsters exploited by county lines gangs and victims of forced prostitution."
Ms Thomas added: "Now that permission to apply for judicial review has been granted we call on the Secretary of State for the Home Department to review policy to protect the British public from the scourge of criminal gangs."
A trial is expected to take place later in the year.