The headline act for Brighton and Hove Pride was cut short mid-way through I Gotta Feeling.
The Black Eyed Peas' headline set was cut short as the band were left on stage without sound, leading to an abrupt end to Brighton and Hove Pride's Saturday night festivities.
Crowds carried on singing the top hit I Gotta Feeling as band members looked around to resolve the issue, before holding up a UK flag, with a Pride flag displayed on screen to end the American group's performance.
Despite the cut off, the band were able to dedicate their penultimate song Where Is The Love? to everyone suffering injustices around the world as they revealed the inspiration for the major 2003 hit came from the UK.
Band member Will.i.am praised the UK as a "special place" which was the group's "first place to find success", after listening to a sermon called Where is the Love in a Scottish church.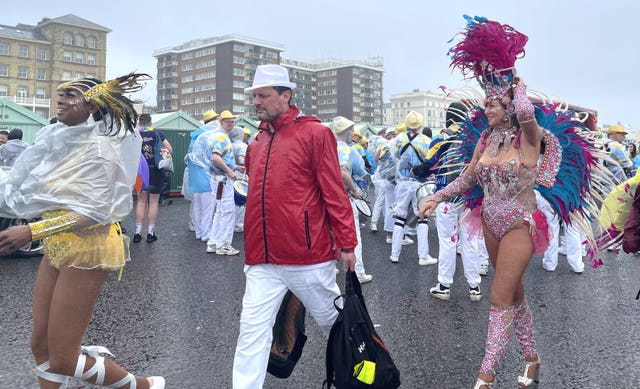 The trio – made up of Will.i.am, Apl.de.ap and Taboo – topped the Saturday line-up for Brighton and Hove Pride's ticketed fundraiser Fabuloso in the Park.
Will.i.am and Apl.de.ap donned rainbow wristbands throughout the performance, and were joined on stage by female artist J Rey Soul on vocals.
The band opened the night saying: "Let's go Brighton" with Let's Get It Started as well as revving up the crowd with well-known hits Boom Boom Pow, Pump It, Don't Stop The Party and Scream And Shout featuring Britney Spears.
They also introduced one of their latest tracks, Don't You Worry featuring Shakira off their 2022 album Elevation.
In revving up the crowd, Taboo, wearing a black jacket and trousers with turquoise jewellery, told fans to "put your hands up for love, today we celebrate love between everybody".
Will.i.am also praised the crowd for the turnout that, despite the stormy weather, "people [were] partying like crazy".
Earlier during the day, the Preston Park festival saw Zara Larsson, Jax Jones, Confidence Man and more take to the main stage, while Steps are set to headline on Sunday.
More than 150 LGBTQ+ artists are performing over the weekend, for the official fundraiser event in aid of the Brighton Rainbow Fund, which distributes grants to LGBTQ+ and HIV groups across Brighton and Hove.