Joe Lewis, 86, pleaded not guilty to 16 counts of securities fraud and three charges of conspiracy when he appeared at Manhattan District Court.
A British billionaire whose family trust owns Tottenham Hotspur football club has denied insider trading charges at a US court.
Joe Lewis, 86, pleaded not guilty to 16 counts of securities fraud and three charges of conspiracy when he appeared at Manhattan Federal Court in New York on Wednesday.
He was indicted in the city for allegedly "orchestrating a brazen insider trading scheme", a US attorney previously said.
The charges allege he fed corporate secrets to romantic partners, personal assistants, friends and two co-conspirators.
Recipients are said to have earned millions of dollars illegally.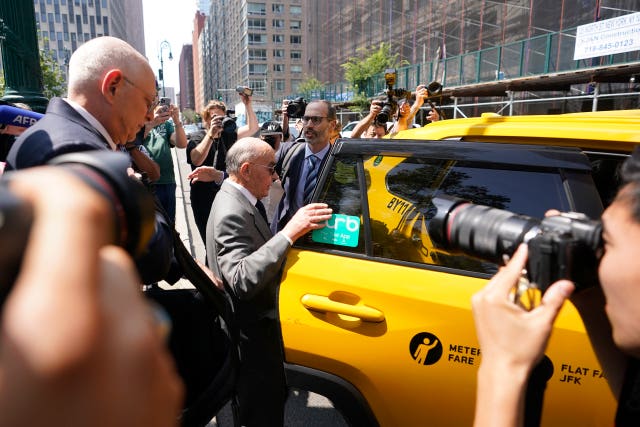 Wearing a grey three-piece suit, the billionaire said "not guilty, your honour" when asked to enter a plea.
Co-conspirators Patrick O'Connor, 66, and Bryan Waugh, 64, both pleaded not guilty to seven counts of securities fraud and a conspiracy count at the same court.
Damian Williams, the US Attorney for the Southern District of New York, who announced the charges in a video on Tuesday night, alleged that Lewis had "abused his access to corporate boardrooms" over several years.
He said: "Those folks then traded on that inside information and made millions of dollars in the stock market, because thanks to Lewis those bets were a sure thing."
Mr Williams described Lewis's alleged behaviour as "classic corporate corruption".
He added: "Now, none of this was necessary. Joe Lewis is a wealthy man. But as we allege he used inside information as a way to compensate his employees or to shower gifts on his friends and lovers.
"That's classic corporate corruption. It's cheating, and it's against the law. Laws that apply to everyone, no matter who you are.
"That's why Joe Lewis has been indicted and will face justice here in the Southern District of New York."
The indictment alleges Lewis's investments in various companies gave him control of board seats, where he placed associates who let him know what they learned behind the scenes.
Prosecutors say Lewis improperly gave out that confidential information between 2019 and 2021 to his chosen recipients and urged them to profit from it.
At one point, according to the indictment, he loaned his two co-conspirators £386,000 each to buy stock in a cancer drug company he knew had received encouraging results from a clinical trial which had not yet been publicly disclosed.
Court documents allege O'Connor texted a friend in connection with that loan to buy the stock, telling the friend the "boss is helping us out and told us to get ASAP", and assured the friend that "all conversations on app is encrypted so all good. No one can ever see".
Lewis also gave the tip to his girlfriend, his personal assistant, a friend he played poker with and a friend with whom he had a romance, the indictment said.
After the company announced the clinical trial data, the stock gained almost 17% in a day, and Lewis's friends and employees all eventually sold at a profit.
The co-conspirators repaid the loans at Lewis's request, according to the indictment.
Lewis is also alleged to have gleaned some closed-door information about a muscular dystrophy drug company in which he was a major investor.
The information allegedly included a planned financial move and some clinical trial news.
Lewis's biotech hedge fund signed a confidentiality agreement that prohibited disclosing the information or trading on it.
However, he told his girlfriend and co-conspirators to buy the company's stock, the indictment said.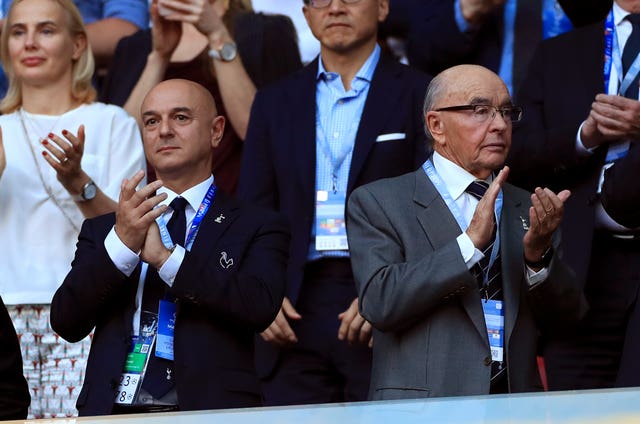 David Zornow, an attorney for Lewis, said his client had come to the US "to answer these ill-conceived charges" and would fight them vigorously.
He said in a statement: "The government has made an egregious error in judgment in charging Mr Lewis, an 86-year-old man of impeccable integrity and prodigious accomplishment."
Lewis is the founder and primary investor of Bahamas-based investment firm Tavistock Group.
He was ranked 39th in the 2023 Sunday Times Rich List, with an estimated worth of more than £5 billion.
He bought a controlling stake in Premier League club Tottenham from Lord Alan Sugar in 2001 for £22 million.
Lewis officially ceded control of the club last year, with Bahamian lawyer Bryan A Glinton replacing him as a director, according to Companies House.
His stake in the club – which he held through the ENIC Group alongside Daniel Levy – was formally handed to a family trust last year.
Family members of Lewis remain beneficiaries of the trust.
Lewis, O'Connor, from New York, and Waugh, from Lynchburg in Virginia, were all bailed.