The judge said the former Manchester City defender's HMRC debt is £788,409.
Ex-Manchester City defender Benjamin Mendy is chasing millions of pounds of back pay from his former club and is selling his house in a bid to avoid bankruptcy, the High Court has heard.
HM Revenue and Customs (HMRC) is seeking a bankruptcy order against the footballer over a nearly £800,000 tax debt, a specialist judge was told.
The hearing in London on Wednesday comes less than a month after the 29-year-old was cleared of rape and attempted rape at Chester Crown Court.
Jacquille Jarrett, representing HMRC, said proceedings at the Insolvency and Companies Court had previously been postponed pending the outcome of the criminal trial and for a settlement of Mr Mendy's debt from backdated salary or the sale of his property.
"There has been no contact from the debtor," Ms Jarrett said, adding: "The agreement advises that an update would be given to HMRC but no contact was made.
"We look to secure a bankruptcy order today."
Mr Mendy's accountant, who refused to give reporters his full name, told the hearing the footballer "was found not guilty in respect of those very serious criminal charges against him".
He said Manchester City had not paid Mr Mendy, who was not present at Wednesday's hearing, since September 2021.
The accountant said the footballer's agent is "in negotiations with Manchester City to get the back pay on the basis that he has been found not guilty".
The sum is "in the order of nine to 10 million pounds gross", the accountant told the court.
He also said Mr Mendy's house near Macclesfield, Cheshire, is being marketed by estate agent Savills for £5 million.
"He himself has moved back to France where he comes from," the accountant said.
"I would like to ask for a short extension because I am told very firmly by his agent that the pay issue will be resolved from Manchester City.
"He was very short of money indeed, the cost of the legal case were over one million pounds."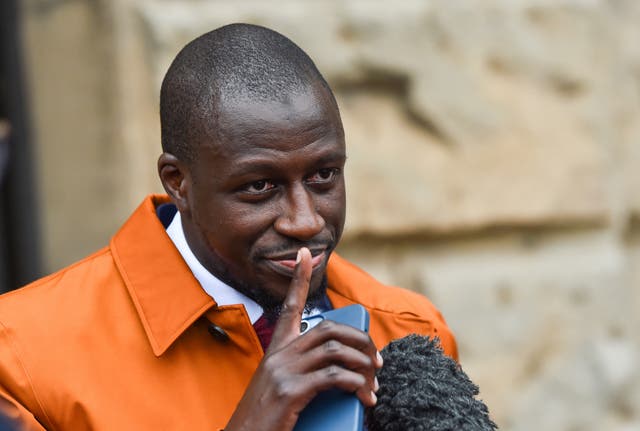 Mr Mendy left Manchester City in June at the expiration of his contract, having not played for the Premier League and Champions League winners since 2021.
He has since signed a two-year deal with French club Lorient.
Judge Clive Jones told Wednesday's hearing that Mr Mendy's HMRC debt is £788,409.
Criticising Mr Mendy, the judge said: "I'm very unimpressed at the lack of information that's been provided both to HMRC and to the court prior to this hearing.
"That, I really think, is the wrong step for him to take," he said, adding that the footballer must attend any further hearing or be legally represented.
The judge adjourned the bankruptcy proceedings to 11am on October 4 to allow Mr Mendy to sell his house.
He said he has been told there is "more than sufficient equity in a house", adding that "time should be given to enable payment to be made".
"I also bear in mind that there are also negotiations in place about the backdated pay," the judge said, adding that the footballer could be being paid "a large sum in wages" in France.
On July 14 this year, jurors found the French full-back not guilty of a charge of rape and one of attempted rape, following a three-week trial at Chester Crown Court.
Mr Mendy had been on trial for a second time, the jury failing to reach verdicts on the allegations made by two women.
In his first trial, lasting six months and ending in January, he was cleared of six counts of rape and one count of sexual assault, relating to four other young women or teenagers.