It is the biggest quarterly drop for the station since before the pandemic.
BBC Radio 2 has lost one million listeners since veteran broadcaster Ken Bruce left the station, new figures show.
The station saw its average weekly listeners drop by 7% from 14.5 million in January to March 2023 to 13.5 million in April to June – the largest quarterly fall for Radio 2 since audience research body Rajar resumed collecting data in September 2021 after it was paused at the start of the pandemic.
Scottish broadcaster Bruce left Radio 2 on March 3, having presented his mid-morning programme for more than three decades, and began a new show on Greatest Hits Radio in April – taking with him his popular music radio quiz PopMaster.
Veteran BBC DJ Gary Davies filled in as mid-morning host until May, when Bolton-born broadcaster Vernon Kay took over permanently.
At the same time, Greatest Hits Radio saw a 13% jump in its average weekly audience, from 5.1 million in January-March to 5.8 million in April-June, along with a 59% increase year-on-year.
Bruce, 72, said: "I've always said that it's not really about the numbers and it's not, for me at least, but I'm delighted to hear today's news for the team here at my new home, Greatest Hits Radio.
"My first four months have flown by and I've loved every minute of it – and there's much more to come."
The Rajar figures show listeners to BBC Radio 4 have also fallen to their lowest level since the pandemic, averaging 9.0 million in April-June, down 5% from 9.4 million in the previous quarter and a drop of 1.3 million year-on-year.
But there was better news for the BBC with Radio 1, where the average weekly audience stood at 7.7 million in the latest quarter, up 2% on the previous three months and up 3% year-on-year.
BBC 5 Live's audience was broadly unchanged at 5.0 million, compared with 5.1 million in both the previous quarter and a year ago, while BBC 6 Music continues to be biggest digital-only network in the UK, with listeners holding steady at 2.7 million.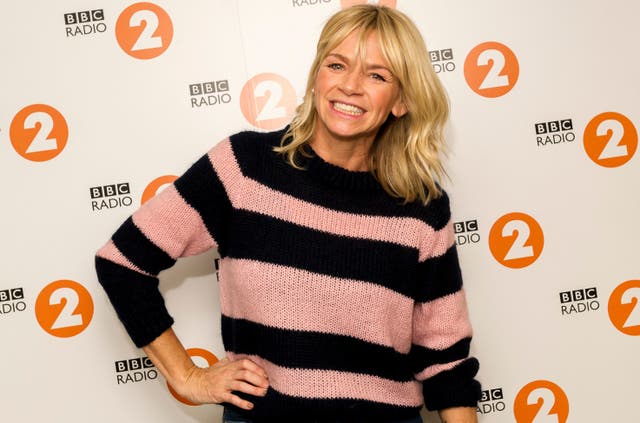 Helen Thomas, head of Radio 2, said: "Radio 2 remains the UK's most popular radio station with 13.5 million loyal listeners who tune in each week to the best music from the past seven decades, presented by some of the country's most loved presenters.
"Congratulations to the brilliant Zoe Ball who continues to host the most listened to breakfast show in the country."
Ball's show had an average of 6.7 million listeners in April-June, down from 7.3 million in January-March, while Radio 4's Today programme dropped from 5.8 million to 5.5 million. In both cases, this is the lowest audience since the Rajar figures resumed in 2021.
The BBC's overall share of the time people spend listening to radio in the UK has also fallen to a new post-pandemic low.
The corporation's stations accounted for 43.2% of total listening in April-June, down from 46.3% in January-March and the 48.1% recorded in April-June 2022.
The figure was 50.9% when radio audiences reporting resumed in autumn 2021.
Rajar paused the collection of data at the start of the Covid-19 pandemic because it was unable to carry out the usual face-to face survey interviews.
It now uses a mixture of in-person surveys and data collected remotely, which means figures reported since 2021 cannot be compared directly with those from before 2020.
Elsewhere, audiences for Greg James' breakfast show on Radio 1 and the 5 Live breakfast programme were broadly unchanged on the previous quarter, at 4.0 million and 1.4 million respectively.
Audiences for the BBC's local and regional radio stations had been on a downwards path in the past two years, but the latest figures suggest this trend might have come to a halt, with the total number of listeners averaging 7.7 million in April-June – up from 7.4 million in the previous quarter and back to where they stood a year ago.
The BBC announced cuts last October to local radio services, which planned for stations sharing more content and broadcasting less programming unique to their area, although some of the proposals have been revised.
Among the smaller commercial stations, GB News Radio, which launched at the start of 2022, saw its audience drop slightly quarter-on-quarter from 319,000 to 317,000, although the figure is up year-on-year from 277,000.
TalkRadio's audience stood at 727,000 in April to June, down from 840,000 in the previous quarter but up year-on-year from 686,000.
Times Radio, which launched in June 2020, saw an average audience of 523,000, down from 554,000 in the previous quarter and from 570,000 a year ago.