The princess is patron of the event, which will run for 25 shows throughout August.
The Princess Royal has visited an Army barracks to watch one of the final rehearsals of this year's Royal Edinburgh Military Tattoo.
Anne watched international teams perform their displays of military drill, music and dancing at Redford Barracks in Edinburgh on Thursday.
She met with many of the performers and bands after they rehearsed their routines on the parade ground, running through the show as it will appear on the esplanade at Edinburgh Castle.
At the end of the performance, juvenile world champion Highland dancer Rosey Watt presented the princess, who is patron of the Tattoo, with flowers as the organisers thanked her for attending.
This year's event, which runs from Friday for 25 shows throughout August, will see the US Air Force Band perform for the first time – providing a freestyle depiction of "America's great songbook".
Other visiting bands include the Trinidad and Tobago Defence Force Steel Orchestra, who will put on a lively performance of contemporary Caribbean music.
The RAF is the lead service at this year's Tattoo, which will feature music from video games like Battlefield 2, Final Fantasy VII and Dragon Age: Inquisition.
Traditional Scottish music, including the famous skirl of the massed pipes and drums, remains a central part of the show.
The theme for this year's event is "Stories", with 800 performers from around the world seeking to captivate the festival crowds.
Michael Braithwaite, creative director of the Tattoo, told the PA news agency: "There's the right kind of nerves, a little bit of tension before a show is always good for a performance.
"But we've had some very good rehearsals now and everything's looking and sounding great.
"We've got some new innovations in the show – we've got some gaming music in there with the RAF."
The video game music was chosen to provide "something relevant to the servicemen and women of today", he said, adding: "Gaming is a way of communication and also a way of telling stories and living out stories and role play."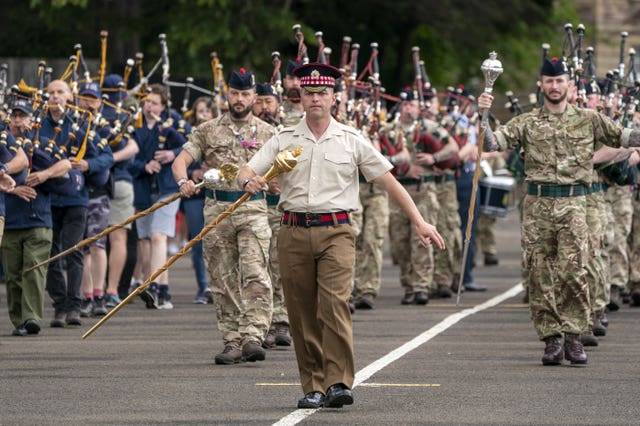 As with last year's Tattoo, there will be a "visual tribute" to mark the war in Ukraine and show support.
Mr Braithwaite said this year's show will be "even more exciting and enhanced" than last year's, which was the first after a pause due to the pandemic.
Colonel Don Schofield, commander and conductor of the US Air Force Band, said it is "incredibly special" to bring the military band to Edinburgh for the first time.
He told PA: "One of the most special things for us is to be able to meet the other band members and other performers, learn about their music, learn about their culture, get to know them a little bit."