The duke has claimed William physically attacked him and revealed the brothers call each other Willy and Harold.
05 January 2023
With excerpts from the Duke of Sussex's tell-all book leaked in the run up to its publication, here are the claims and revelations so far.
– Harry claims William physically attacked him
Harry writes: "(William) called me another name, then came at me. It all happened so fast. So very fast. He grabbed me by the collar, ripping my necklace, and he knocked me to the floor.
"I landed on the dog's bowl, which cracked under my back, the pieces cutting into me. I lay there for a moment, dazed, then got to my feet and told him to get out."
– William called Meghan "difficult" and "rude"
The Guardian revealed the alleged incident took place at Harry's then home in Nottingham Cottage and that William called Meghan "difficult", "rude" and "abrasive".
Harry told him he was parroting the press narrative about his wife.
– The pair had physical fights when younger
Harry said William urged him to hit back, citing fights they had as children, but Harry refused and William left before returning, looking regretful and apologising.
– The brothers call each other "Willy" and "Harold"
Harry writes that he gave his brother a glass of water and said: "Willy, I can't speak to you when you're like this.", while William told him "I didn't attack you, Harold."
– Harry told his therapist about the fight before he told Meghan
The duke said William told him he did not need to tell "Meg" about the confrontation, but Harry writes that he told his therapist first and Meghan later noticed the scrapes and bruises on his back.
"She was terribly sad," he said of his wife's reaction.
– Charles pleaded with William and Harry to stop fighting at Windsor after the Duke of Edinburgh's funeral
In a tense meeting after Philip's funeral, a grieving Charles told his sons: "Please, boys. Don't make my final years a misery."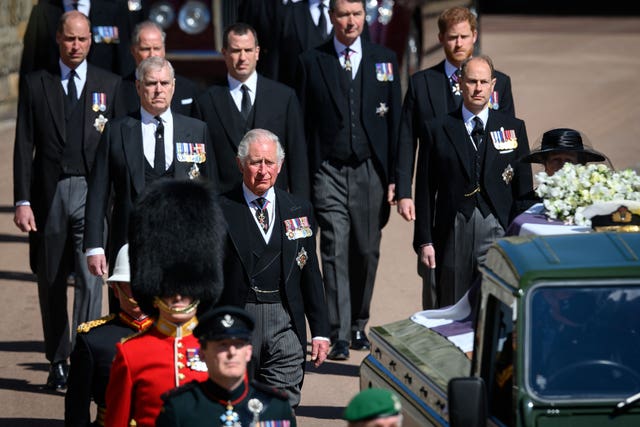 – Harry claims William and Kate encouraged him to wear the Nazi uniform
Harry sparked outrage in 2005 when he wore the uniform complete with swastika armband to a fancy dress party.
But according to US website Page Six, he claims he phoned the couple to ask them whether he should chose a pilot's uniform or a Nazi one for the fancy dress party and William and Kate said the latter, and both howled with laughter when he went home and tried it on for them.
– Charles's delight at Diana giving birth to a "spare"
Harry tells how, after he was born, his father supposedly told the Princess of Wales that his son's arrival was wonderful and that now she had given him an heir and a spare, his work was done.
Both Kensington Palace and Buckingham Palace have declined to comment.