The Bank of England base rate now stands at 5% after a 0.5 percentage point hike on Thursday.
The Bank of England has hiked the base rate for the 13th time in a row, in a move set to cause more pain for mortgage holders.
– What did the Bank of England do on Thursday?
The Bank has raised the base rate from 4.5% to 5%, which was a steeper increase than some were expecting.
– What does it mean for homeowners?
The bulk of mortgaged homeowners are on fixed-rate deals, so they will not immediately feel an impact, although they will feel the "pain" when they come to remortgage.
People on tracker mortgages which directly follow movements in the base rate will feel the immediate impacts of the increase.
According to figures from trade association UK Finance, a 0.5 percentage point base rate increase will push the average monthly tracker mortgage payment up by £47.43.
Homeowners sitting on standard variable rate (SVR) mortgages will also feel the impact if the lender chooses to pass on the base rate increase. On average, they could pay £30.28 more per month.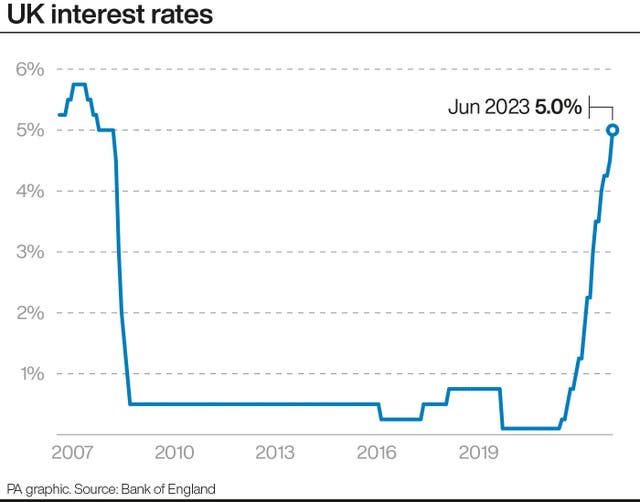 – Why did the Bank take this step?
The Bank is using rate rises as a tool to try to quell stubbornly high inflation.
It has a target to try to get the rate of inflation to around 2%.
Consumer Prices Index (CPI) inflation remained at 8.7% in May, despite hopes that it would fall and provide some relief for households.
– What has already been happening in the mortgage market?
Two-year fixed-rate mortgages have topped 6% in recent days, for the first time in 2023. Fixed rates previously jumped above 6% last autumn amid the market turmoil that followed the mini-budget.
As mortgage rates have increased, some lenders have temporarily withdrawn deals available through brokers in recent weeks, to help manage the flow of applications. In several cases, mortgages have been put back on sale with higher rates.
– What action is the Government taking?
Prime Minister Rishi Sunak says his number one priority is to halve inflation this year and get back to the target of 2%.
Chancellor Jeremy Hunt will meet with banks on Friday and he has already spoken with consumer champion Martin Lewis this week.
Speaking in Parliament this week, Mr Hunt said: "We will not hesitate in our resolve to support the Bank of England as it seeks to strangle the inflation in the economy – and the best policy is to stick to our plan to halve it.
"But I also want to make sure we do everything possible to help families paying higher mortgage rates in ways that do not themselves feed inflation."
– What have other political parties said?
Labour has put forward a five-point plan, which would include requiring lenders to reverse any support measures when the borrower requests and forcing them to wait a minimum of six months before initiating repossession proceedings.
Shadow chancellor Rachel Reeves ruled out Labour backing plans that would see subsidies or financial support for mortgage holders, telling BBC Radio 4's Today programme: "What I would be doing if I was chancellor is I would be helping people who are struggling with those higher costs."
Liberal Democrat leader Sir Ed Davey has urged ministers to act now to prevent a "tidal wave" of home repossessions with an emergency mortgage protection fund paid for by a reversal of tax cuts for big banks.
– Is there more mortgage pain to come?
Financial markets have predicted that interest rates will strike a high of 6% by early next year, amid warnings that 1.4 million mortgage holders will lose at least a fifth of their disposable income in additional repayments.
Around 2.4 million fixed-rate deals are due to end between now and the end of next year, according to trade association UK Finance.
Mortgages are likely to be a key area of debate at the next general election, expected next year.
– What help is available if I am struggling with my payments?
Lenders are urging borrowers to speak to them as early as possible.
Depending on individual circumstances, they may be able to suggest various options to keep monthly payments more manageable.
Some options, such as extending the mortgage term, may mean paying more over the longer term, so any decision needs to be weighed up carefully.
If someone is coming to the end of a mortgage, a broker could help with finding a suitable deal.