The mercenary group has acted as a private army for the Kremlin buts its leader has turned on the Russian military leadership.
An armed rebellion against Vladimir Putin by the Wagner mercenary group presents a unique military opportunity for Ukraine, experts have said.
The leader of the mercenary group, which acted as a private army for the Kremlin, has become increasingly unhappy about Russia's failure to seize more of Ukraine.
In recent weeks Yevgeny Prigozhin has become more vocal in his attacks on the military leadership as Russian soldiers have been killed in their thousands in and around Bakhmut in eastern Ukraine.
On Saturday, Mr Prigozhin's forces appeared to control the military headquarters in the city of Rostov-on-Don near the Ukrainian border after crossing from occupied parts of Ukraine.
The governor of the Lipetsk province later said the Wagner Group has entered his region, which is about 225 miles south of Moscow.
Lord Dannatt, former chief of the general staff of the UK army, said this "could well be the moment" for Ukraine to win the war.
He told Times Radio: "If they [Ukrainian forces] have found by now, one or two weak spots, this could well be the moment where there is huge confusion within Russia, huge confusion amongst the Russian military commander control, for the Ukrainians to launch thei between 10 and 12 Western equipped and well-trained manoeuvre brigade groups into a potential breakthrough situation, and really change the battlefield situation in Ukraine.
"If that were to happen, allied with what Prigozhin is doing, then Putin's days are numbered in a handful, and probably even less."
Orysia Lutsevych, head of the Chatham House foreign policy think tank's Ukraine Forum, said: "A Putin-Prigozhin war comes as perfect timing for Ukraine.
"As Kyiv runs shaping military operations along an extensive front line, the infighting between the Ministry of Defence and Wagner mercenaries will create confusion and potential division among the Russian troops deployed in Ukraine.
"Wagner mercenaries took over the two Russian central military logistics hubs in Rostov-on-Don and Voronezh, which control their operations in Donbas and Kharkiv.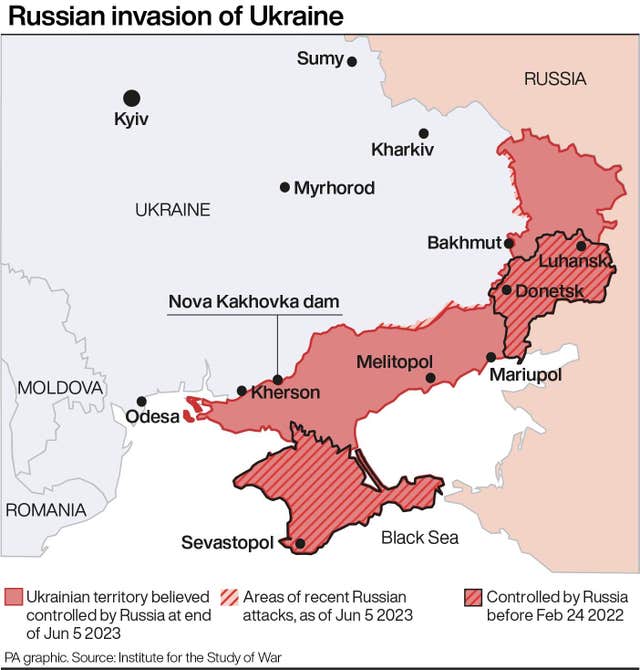 "This is the area where Ukrainians are currently pushing in their counter-offensive. "
James Nixey, director of the think tank's Russia and Eurasia programme, said: "Ukraine will rightly capitalise.
"This will be a spur to its soldiers on the front line, looking to punch through.
"So far, Putin has not blamed this on Ukraine, although that may yet come.
"Ukraine will be 'grateful' to Prigozhin… but not for long. He may be temporarily useful, but he is no shining knight."
Keir Giles, senior consulting fellow on the Russia and Eurasia programme, said: "While it's good news for Kyiv that some of Russia's forces will be temporarily distracted, nobody should imagine that this development will lessen the threat to Ukraine and to Europe.
"Prigozhin's argument is not with the war – it's with how, and why, it is fought.
"This is a confrontation between some of the worst people in the world, in a dispute over how to destroy Ukraine the most efficiently."
The experts were split on whether the uprising will ultimately be successful.
Mr Nixey said the rebellion is likely to peter out because the Wagner Group has little support among the elite in Moscow, while the think tank's associate fellow, Samantha de Bendern, argued "the first round seems to have gone to Prigozhin."