The Tory former prime minister said her party must 'act when one of our own, however senior, is found wanting'.
Theresa May has urged MPs to vote to back a report that found Boris Johnson lied to Parliament over partygate, as Rishi Sunak steered clear of the Commons debate on its findings.
Conservative former prime minister Mrs May said backing the Privileges Committee's conclusions would be "a small but important step in restoring people's trust" in Parliament.
In a veiled swipe at Mr Sunak's absence from the chamber, Mrs May urged her party to "show that we are prepared to act when one of our own, however senior, is found wanting".
The Prime Minister has been accused of "running scared" for refusing to say whether he will take part in a potential vote.
He has been urged to "show leadership" on the issue but has insisted he does not want to "influence" how MPs might vote.
No 10 said the Prime Minister's schedule on Monday "doesn't include attending Parliament" and that he has commitments he "can't move".
The cross-party committee concluded that Mr Johnson, who quit as an MP and labelled the probe a "kangaroo court" after being told in advance of its findings, should have faced a 90-day suspension for misleading the House when he told the Commons that Covid rules were obeyed in No 10 despite parties taking place.
It also recommended banning the ex-premier from receiving a pass to access Parliament which is usually available to former MPs.
It is not clear whether there will ultimately be a vote on the conclusions of the report, which could go through on the nod unless there are objections from Mr Johnson's supporters.
The former prime minister was urging his allies not to oppose it, arguing that the sanctions have no practical effect, although critics argue that the level of support shown for him would have been very low anyway.
Mr Johnson and his loyalists have sought to discredit the committee's inquiry, including by accusing its chairwoman, veteran Labour MP Harriet Harman, of holding "prejudicial views".
But during the debate, Ms Harman said the Government gave her assurances that she would not be seen as biased in her judgment of Mr Johnson.
After Tory former minister Sir Jacob Rees-Mogg highlighted her tweets criticising the ex-prime minister, Ms Harman said she told the Government she was "more than happy to step aside".
"I was assured that I should continue the work that the House had mandated with the appointment that the House had put me into and so I did just that," she added.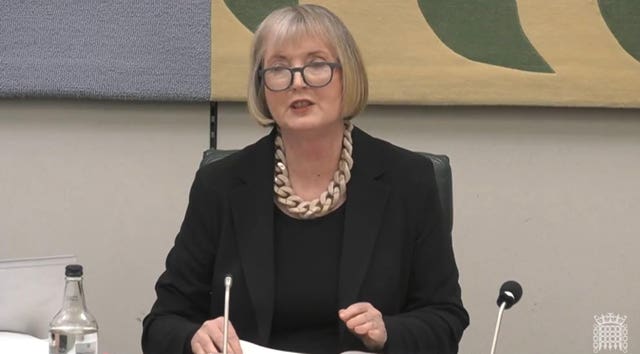 Mrs May said she accepted the committee's findings and commended its members "for their painstaking work, and for their dignity in the face of slurs on their integrity".
"The decision of the House on this report is important.
"It is important to show the public that there is not one rule for them and another for us," she said.
"Following an unsettling period in our political life, support for the report of the Privileges Committee will be a small but important step in restoring people's trust in members of this House and of Parliament.
"And I also say to members of my own party that it is doubly important for us to show that we are prepared to act when one of our own, however senior, is found wanting.
"I will vote in favour of the report by the Privileges Committee, I urge all members of this House to do so – to uphold standards in public life, to show that we all recognise the responsibility we have to the people we serve and to help to restore faith in our parliamentary democracy."
Conservative MPs will be given a free vote, but allies of Mr Johnson warned they could face battles with their local parties to remain as candidates at the next election if they back the motion.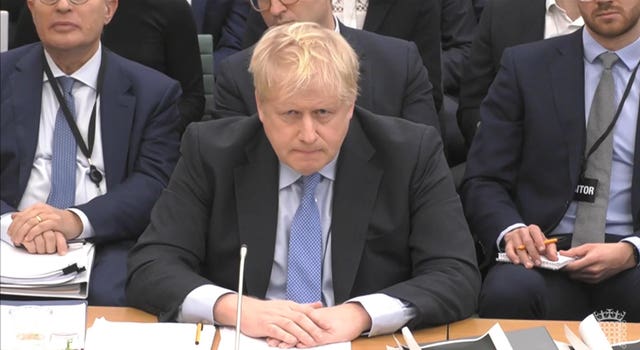 Mr Sunak has claimed his reticence about publicising his view on the report's conclusions is because he "wouldn't want to influence anyone in advance" of the potential vote.
But publicly backing the report and its sanctions could risk deepening the Tory civil war between Johnson loyalists and his own administration.
The Prime Minister's official spokesman said he had afternoon meetings on Monday, including hosting his Swedish counterpart, Ulf Kristersson, before attending a dinner in the evening.
Pressed repeatedly on whether Mr Sunak could make an appearance in the Commons, the official said: "Currently you've got his schedule for today, which doesn't include attending Parliament."
The Prime Minister told ITV's Good Morning Britain the committee had carried out its work "thoroughly" and that he respected the Tory majority-panel.
He added: "It will be up to each and every individual MP to make a decision of what they want to do when the time comes.
"It's important the Government doesn't get involved in that because it is a matter for Parliament and members as individuals, not as members (of) Government."
Labour leader Sir Keir Starmer told the programme the Prime Minister should participate if there is a Commons vote, saying: "He should show leadership – come along, get in the lobby, and show us where he stands on this."
Liberal Democrat deputy leader Daisy Cooper said: "Refusing to back this motion would be an insult to bereaved families who grieved alone while Johnson lied and partied.
"The buck stops at the very top of Government, if Rishi Sunak really wanted to govern with integrity he shouldn't be running scared of this vote."
It came as the Metropolitan Police confirmed they were reviewing new material in relation to a Christmas party held at Conservative Campaign Headquarters during the height of the pandemic in December 2020.
Tory activists were invited to what was described as a "jingle and mingle" party, according to the BBC, despite members of the public being banned from seeing each other under Covid regulations in place at the time.
A video of the event published by the Sunday Mirror, which appeared to show Tory staff dancing and joking about coronavirus restrictions, is among the new evidence Scotland Yard is considering.
Both former London mayoral candidate Shaun Bailey and Tory aide Ben Mallet, who were handed a peerage and an OBE respectively in Mr Johnson's resignation honours, attended the gathering.