The submersible, which had five people on board, lost communication with tour operators on Sunday.
There is a race against time to find a lost submersible, with the US Coast Guard confirming there is just an estimated 20 hours left of oxygen on the vessel.
The submersible, named Titan, lost communication with tour operators on Sunday while about 435 miles south of St John's, Newfoundland, during a voyage to the Titanic shipwreck off the coast of Canada.
Speaking to BBC News, Rear Admiral John Mauger said: "Based on information that the operator provided, they indicated that they have an emergency life-support system onboard to provide oxygen for approximately 96 hours.
"I understand that is a difficult calculation to predict because it depends on the number of occupants and their consumption but we are looking at a period of time of about 20 hours from now into tomorrow morning that we may be at the end of the 96-hour window.
"That said, we are continuing to put all available resources into the search right now and will continue to prioritise the search as we go forward."
When asked about the noises detected by sonar buoys dropped into the ocean by a Canadian P-3 aircraft, he failed to confirm whether they were of regular intervals that would suggest they were man made.
He said: "We're working very closely with leading acoustic experts both here in the US navy and the Canadian navy, and I've integrated a UK submariner into my command here in Boston thanks to the support from the UK consul general for Boston, Dr Abbott, to make sure we have the expertise that we need to understand what that noise signature is and what it is telling us.
"While that analysis is going on though, we're not waiting to target remote-operated vehicle operations in the areas that the sonar bodies tell us that that noise is potentially being generated.
"So we've relocated our remote-operated vehicles onsite to search in those areas.
"But at this time I haven't had any confirmation of what the noise is."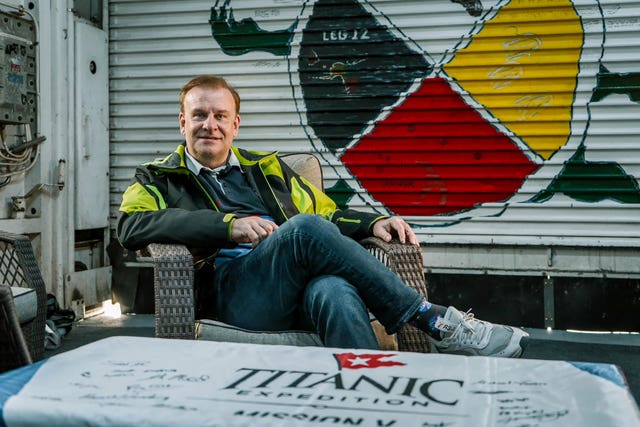 The Titan has five people on board, including British billionaire adventurer Hamish Harding, and the 6.7m (22ft) long OceanGate Expeditions vessel may have less than 24 hours of oxygen left.
The others on board are Shahzada Dawood, his son Suleman and OceanGate's chief executive and founder Stockton Rush, reportedly together with French submersible pilot Paul-Henri Nargeolet.
An array of vessels are involved in the search effort, including Bahamian research vessel Deep Energy, French research vessel L'Atalante, His Majesty's Canadian Ship Glace Bay – for a mobile decompression chamber and medical personnel – and four Canadian Coast Guard vessels, according to the US Coast Guard.
Speaking to PA news agency, former Royal Navy submarine captain Ryan Ramsey said the rescue operation is made harder due to there being no replica of the Titan submersible to model a rescue attempt off should they find it.
He said: "It would have to be bespoke equipment. I don't think anyone has planned for this kind of operation so they would have to create some kind of bespoke process to get a cable round or a fixing point on that particular submersible.
"The problem with that is, with most submersibles, they make two of them, they make two of them for reasons – for example, something does happen to one of them the rescuing porters can go see the other one and figure how they're going to exercise the rescue.
"In this particular case, they only made one and so there's no opportunity for people to work out what that solution is and to work that problem through and achieve a successful outcome."