Tower Hamlets and Westminster had the biggest increase, while South Staffordshire saw the largest drop.
Population levels are estimated to have jumped by at least 2% in some of the most built-up areas of England and Wales in the year to June 2022, as people returned to towns and cities following the peak of the Covid-19 pandemic, new figures suggest.
London boroughs saw the biggest increases, though many places that typically attract a large number of students – such as Manchester, Salford and Newcastle – were close behind.
A handful of locations are estimated to have seen a drop in population over the same period, many of them rural or coastal areas such as North Norfolk, Hastings in East Sussex and Scarborough in North Yorkshire.
The provisional figures have been published by the Office for National Statistics (ONS) and are based on a new method for calculating the population, meaning they cannot be compared with other measures such as the 2021 census.
The estimates, which are classed as experimental data, suggest the London boroughs of Tower Hamlets (up 4.8%), Westminster (3.5%) and Newham (3.0%) saw the largest increases in population between mid-2021 and mid-2022, followed by two more areas of the capital: Camden and Kensington & Chelsea (both up 2.8%).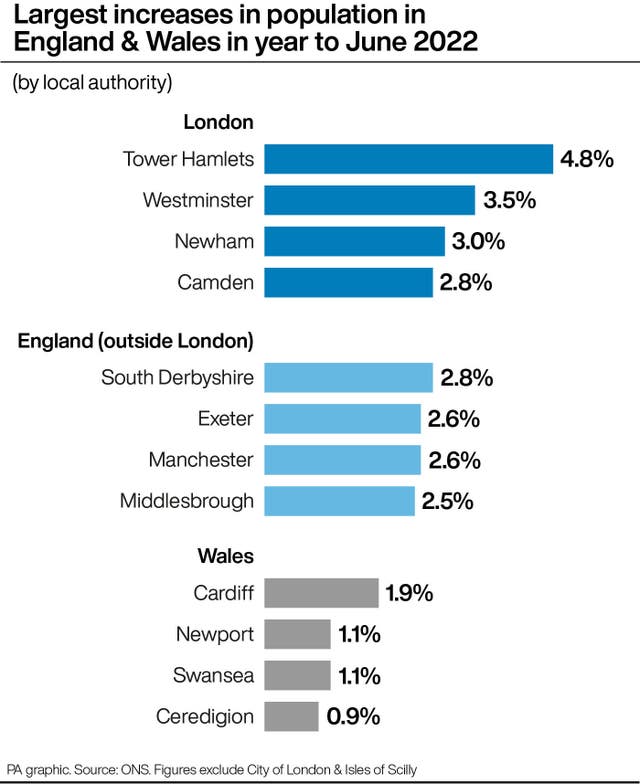 Outside London, the biggest jumps were mostly in local authorities with major universities, such as Exeter and Manchester (both up 2.6%), Middlesbrough and Salford (2.5%) and Newcastle and Coventry (2.4%), though South Derbyshire saw a rise of 2.8%.
In Wales, the largest increases were in Cardiff (1.9%), Newport (1.1%) and Swansea (1.1%).
Some 15 areas are estimated to have seen a fall in population in the year to June 2022, with South Staffordshire having the largest drop (down 0.9%), followed by Lincoln and Ipswich (both down 0.4%), North Norfolk and Boston (down 0.3%) and Hastings and Scarborough (down 0.2%).
The total population for England and Wales is estimated to have passed 60 million for the first time, rising from 59.6 million in mid-2021 to 60.2 million in mid-2022.
Jen Woolford, ONS director of population statistics, said: "Today's estimates give a timely indicator of population change.
"They show that the population of England and Wales has increased by 1.0% between 2021 and 2022.
"The largest growth has been seen in some London authorities, which is in line with our expectations as people returned to cities following the pandemic."
The outbreak of Covid-19 in spring 2020 led many universities and colleges to switch from in-person tuition to online lectures and seminars, a pattern that continued in 2021 and which led students to do some or all of their studies back home.
Lockdown restrictions and rules on social mixing are also likely to have encouraged residents of towns and cities to relocate temporarily and stay with family and friends in less crowded areas.
A total of 21 local authorities in England and Wales are estimated to have seen their population increase by at least 2% in the year to June 2022, with a further 26 between 1.5% and 2%.
The City of London and Isles of Scilly have been excluded from the figures due to their very small population size.
Official estimates of the mid-2022 population will be published in September, along with updated estimates for previous years, the ONS said.
Provisional figures for mid-2023 will be published at the end of this year.