Chris Hopson, chief strategy officer for NHS England, said industrial action was having a 'significant impact' on the health service.
A health chief has called for the "quickest possible resolution" to the junior doctors' strike to mitigate the impact of industrial action on the NHS.
Chris Hopson, chief strategy officer for NHS England, told the NHS ConFedExpo in Manchester that strikes were having a "significant impact" on the health service.
It comes as thousands of junior doctors started a 72-hour walkout from 7am on Wednesday in a row over pay. Thousands of appointments and operations were expected to be cancelled as a result.
Mr Hopson said: "In the end, the decisions around what is paid to junior doctors are a matter for the Government. Our job is to make sure that we appropriately manage the consequences of any industrial action.
"One of the advantages of doing the job that I do is that you get to see up close how much work is going in at both a trust level, at a regional level and also the national level to manage that industrial action.
"There's been a whole series of meetings over the last couple of weeks to really make sure we do as good a job as we've done so far of managing the impact. We do need to recognise that this is having a significant impact."
He added that there was a "huge amount" of work to do for frontline workers over the coming days and the quicker an "appropriate resolution" was reached, the better.
"It is very disruptive. When you talk to trust chief executives, when you talk to those inside NHS England who are managing the strike, I'm very struck by how much effort and time it does take to ensure that we keep patients safe, which is our ultimate responsibility here. That's why I think it's really important that we get a resolution to this as quickly as we possibly can."
The British Medical Association (BMA) is calling for "full restoration" of junior doctors' pay, which it says has been cut by 26%. The Government has offered 5% to end the dispute.
Health and Social Care Secretary Steve Barclay said it was "extremely disappointing" that the BMA was going ahead with further strike action and warned it could put patient safety at risk.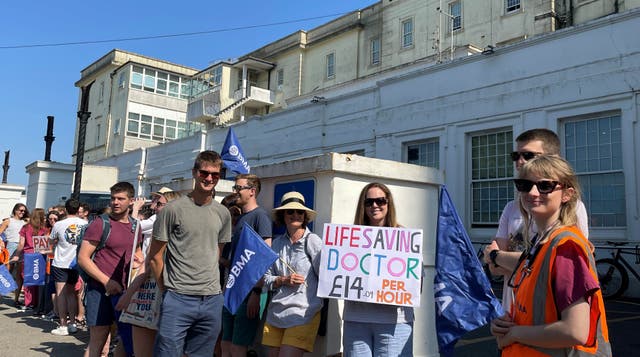 From June 19, the BMA will be re-balloting junior doctors to extend its mandate on industrial action and said it could go on until March 2024 or beyond. Last week, hospital doctors' union the HCSA also sent ballot papers to junior doctors in a bid to extend their mandate.
Meanwhile, members of the Royal College of Nursing (RCN) in England are voting on whether to extend their mandate on strikes until the end of 2023, while The Society of Radiographers' 20,000 members in England will be balloted on industrial action in the coming weeks.
When asked about funding and staffing issues in the service, Mr Hopson said it was the NHS's job to "provide the best quality care from the financial settlement" granted by the Government.
He added: "As you would expect, we have appropriate conversations with the Government on an ongoing basis about the funding that's available."
He also said it was "extremely important" to give the NHS "as much funding certainty as possible".
"That doesn't just mean revenue funding, that means capital funding as well."
Mr Hopson added: "Obviously, those are issues we would want as NHS England to speak to the newly elected Government about.
"In terms of the funding settlement where we currently are, that's been set, and it's our job to manage them the best that we can within it."