Sir Ed Davey is set to declare that the contest will be a 'close race' as his party aims to overturn a 24,000 Tory majority.
Sir Ed Davey will kick-start the Liberal Democrat campaign in Mid-Bedfordshire as his party bids to pull off a shock victory in Nadine Dorries' seat following her resignation.
The Lib Dems see the constituency as a winnable target after having achieved massive swings to take so-called Blue Wall seats in the south of England where Conservative support has traditionally been strong.
Former cabinet minister Sir Ed will use his visit on Monday to declare the constituency "a close race" between his outfit and an "out of touch" Tory Party.
Ms Dorries, who won 60% of the vote at the 2019 general election to secure a 24,000 majority, quit as an MP on Friday ahead of Boris Johnson's resignation honours being released.
The former culture secretary has blamed her second job workload as a broadcaster and newspaper columnist for wanting to leave the Commons immediately.
She had already announced that she did not plan to contest the next election.
Ms Dorries was reportedly one of a number of Tory MPs, including Nigel Adams and Sir Alok Sharma, who were put forward for a peerage by Mr Johnson — who also has resigned from Westminster — but did not feature in the published list.
Sir Ed's visit to her constituency comes after a host of Conservative MPs spent the weekend campaigning in Mid-Bedfordshire as Prime Minister Rishi Sunak's party looks to retain the seat.
Tory chairman Greg Hands on Sunday posted pictures of himself campaigning in the area ahead of what he predicted would be a "keenly contested" by-election.
The Lib Dems came third in the seat in 2019 and would need a swing of 23.6% to win in a by-election.
In June 2022, the party won the seat of Tiverton & Honiton from the Conservatives on a swing of 29.9%.
Sir Ed said: "The British public have had enough of the endless Conservative party sleaze and scandal.
"Next month, people across Bedfordshire have the chance to finally get rid of this chaotic sham of a Government.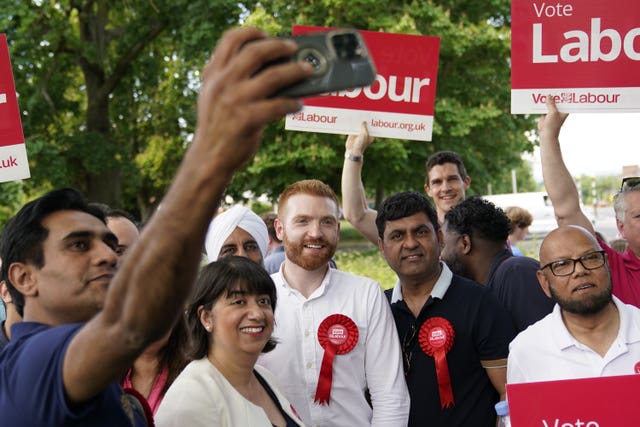 "Mid-Bedfordshire will be a close race between the Liberal Democrats and an out-of-touch Conservative Party.
"This Conservative Government is taking people for granted; from spiralling mortgage rates, to record NHS waiting lists and sewage in rivers."
As well as speaking to voters, Sir Ed will inspect a river which his party said is at risk of sewage discharges by Anglian Water.
The date for the by-election has yet to be set, with a "writ", a motion giving between 21 and 27 working days for a vote to be held, yet to be moved.
The Tories face three forthcoming by-elections after Ms Dorries, Mr Johnson and Mr Adams, MP for Selby and Ainsty, resigned within 24 hours of each other.
Campaigning in Mr Johnson's Uxbridge and South Ruislip seat in west London has already started, with Labour's campaign co-ordinator, Shabana Mahmood, and shadow work and pensions secretary Jonathan Ashworth in the area on Saturday to support candidate Danny Beales.
Even before the former British leader's resignation, Labour had his seat marked as one its top targets ahead of the next general election, which is expected to be held next year.
The Tories are defending a 7,000 majority in Uxbridge and a 20,000 cushion in Mr Adams' constituency.
Mr Adams has vowed to help return a Tory MP in the by-election he has triggered in his North Yorkshire seat.