The number of cases of diabetes is expected to double by 2050.
More than a billion people around the world are expected to be living with diabetes over the coming years, according to a new study.
Academics said diabetes cases are set to "grow aggressively" in every country and among every age group.
The new paper, published in a new series by The Lancet Diabetes and Endocrinology journal, says that by 2050, some 1.3 billion people will have diabetes – more than double the 529 million cases in 2021.
Forecasters have separately predicted that by 2050 the world's population will be about 9.7 billion.
This could mean that by 2050 about 13.4% of the world's population – between one in seven and one in eight people – will be living with diabetes.
Researchers said that that no country in the world is likely to see a decline in the rising rates of disease.
"Diabetes remains one of the biggest public health threats of our time and is set to grow aggressively over the coming three decades in every country, age group and sex, posing a serious challenge to healthcare systems worldwide," said Dr Shivani Agarwal series lead from the Montefiore Health System and the Albert Einstein College of Medicine in New York, US.
The researchers suggested that "structural racism and geographic inequity" are accelerating the "global crisis" of diabetes.
They said that rates of diabetes among minority ethnic groups in wealthy countries are higher than the rates seen in white ethnic groups.
The team said that people from marginalised communities are less likely to get access to essential medicines and new treatments, have worse blood sugar control, and have a lower quality of life and reduced life expectancy.
In the UK alone there are currently more than five million cases of diabetes.
Earlier this year, Diabetes UK said the nation is in a "rapidly escalating diabetes crisis", that 4.3 million people have been diagnosed with diabetes and an estimated 850,000 are living with the condition but have not yet been formally diagnosed.
About nine in 10 cases of diabetes in the UK are type 2 diabetes, which is often linked to being overweight or inactive.
The condition causes the level of sugar in the blood to become too high.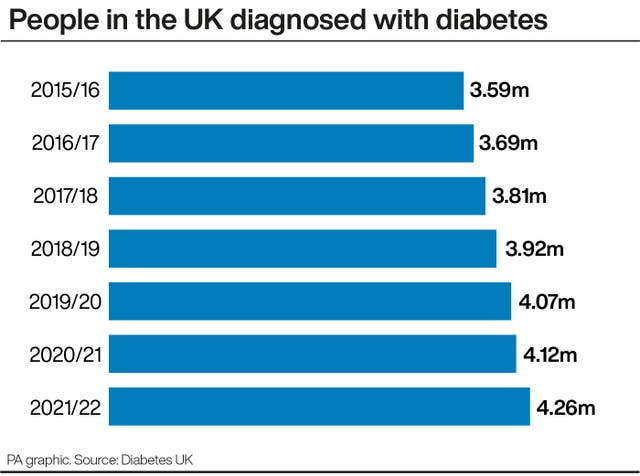 Diabetes UK has previously said that it is worried that the high numbers of people who are overweight or obese – about 64% of adults in England – is translating into an increase in cases of type 2 cases.
The charity said that the condition is becoming increasingly common among those under the age of 40 and more prevalent in areas where there are higher levels of deprivation.
It said the risk factors of type 2 diabetes are "multiple and complex" and include age, family history, ethnicity, as well as being overweight or obese.
Commenting on the latest set of papers, Chris Askew, chief executive of Diabetes UK, said: "This important study underlines the sheer scale of the diabetes crisis we're facing, both in the UK and around the world.
"We already know that in the UK, type 2 diabetes does not affect everyone equally.
"Your ethnicity, where you live and your income all affect your chances of getting type 2 diabetes, the care you receive and your long-term health, and these are all interlinked.
"The need for concerted cross-government action to address inequalities in diabetes prevalence and outcomes, as well as the underlying conditions of ill health, such as poverty and living with obesity, has never been greater or more urgent."